Back to archive
Iolanthe – 2013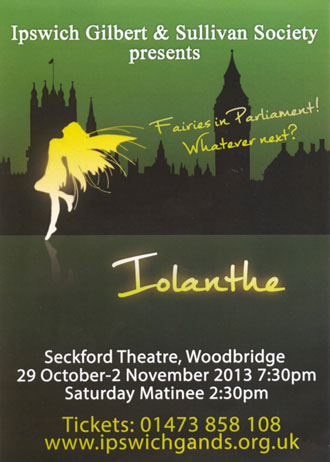 In 2013, we brought fairies to the House of Lords with our production of Iolanthe. Once again, we performed at the Seckford Theatre Woodbridge from 29th October to 2nd November.
Directed by Brian Robinson,
Musical Director: Andrew Burke.

Cast
The Lord Chancellor
Martin Clarke
Lord Tolly
Joshua Horsey
Lord Cobbold
Roy Preston
Private Willis
(of the Grenadier Guards)
Phil Holmes
Strephon
(an Arcadian Shepherd)
Mark Ellis
Queen of the Fairies
Sara Buncknall
Iolanthe
(A Fairy, Strephon's Mother)
Lucy Pakes
Celia
Rosalind Atkins
Leila
Sylvia Towell
Fleta
Sheila Martin
Phyllis
(an Arcadian Shepherdess
and Ward in Chancery)
Louise Cockerill
Chorus
David Atkins, Marion Banyard, Mareth Bassett, Judy Cairns,
Geneva Downes, Alison Dumbell, Leslie Dumbell, Carol Flatres,
Gwen Haxell, David Hayhow, Ian Hunter, Ian Kennedy,
Peter Meredith, Alan Otterburn, Joan Parish, Judy Read,
Debbie Rogers, Ewen Stamp, Lesley Wittgreffe
Review
Courtesy of Pam White, NODA.
This was a really brilliant production cleverly brought up to date by Brian Robinson! And it lifted all our spirits after the gales and wet weather we have had recently. (I am still humming the finale.) Costumes were excellent and there were very good sets for both halves. Iolanthe is a fairy banished because of her relationship with a human, her sentence is twenty five years, but happily reprieved. Now her son Strephon, is hoping to marry, although to be top half a fairy and bottom half a human may be a bit difficult! Superb chorus work as usual led by Andrew Burke and his excellent orchestra. I loved all the performances. Sarah Bucknall as Queen of the fairies is always so professional as were Louise Cockerill! as Phyllis, fiancé to Strephon, Mark Ellis. Mark gave just the right comedy for the part which after all is a very strange courtship only being half and half! Phil Holmes always commands the stage and his character (Private Willis) comes on with great strides! Lucy Pakes as Iolanthe was excellent and sang beautifully in the role, I especially liked her duet with her human husband Martin Clarke, another excellent performance. A great chorus as usual - I loved it.
Photos