Trial by Jury & The Sorcerer 2017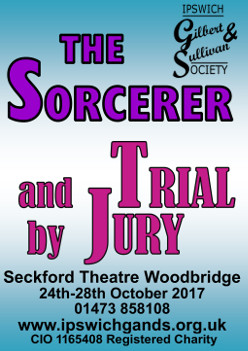 There's magic everywhere when you're young and in love!
Witchcraft and weddings is the enchanting concoction served up in this double bill of musical comedy masterpieces of magic and marriage.
In the Sorcerer, an engaged couple are so much in love, whilst in Trial by Jury an engaged couple are so much OUT of love!
It's the 1870s, in a sleepy rural village in deepest Suffolk, Alexis Pointdextre and Aline Sangazure have become engaged. They want their happiness to be shared by everyone. The answer? Hire in a Sorcerer to brew a love potion and let the unsuspecting villagers drink it. What could go wrong?
In Trial by Jury, fast forward to courtroom drama in the 1920s. Angelina is suing Edwin for breach of promise of marriage. Everyone is on the side of the lady and against the defendant – a clear case of bride and prejudice! Can the Learned Judge solve the situation? It's a nice dilemma we have here!
Booking
Tickets for the show are now on sale! More details can be found on the booking site.
24th-28th October 2017 7:30pm and Saturday matinee 2:30pm.
Tickets are £12 for Tuesday and £15 for Wednesday-Saturday, with a limited number of £5 seats. Please ask for reduced rate for children on booking.
Seckford Theatre
Our show venue is the Seckford Theatre Woodbridge, within the grounds of Woodbridge School. The theatre boasts excellent facilities, ample parking and a licenced bar.
Photos