Trial by Jury & The Sorcerer 2017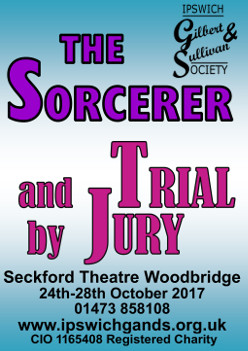 In October we shall be performing our joint production of Trial by Jury and The Sorcerer; however, before we can begin to stage this we have to cast it. One of the great things about our society is that we hold open auditions, so anyone can come along, existing members, people from other musical groups, those who want to get back into singing, or who just want to 'have a go' get an opportunity to be auditioned for suitability to be cast in this show for both principal and chorus roles.
Auditions
The audition pieces for this year have been chosen, and the details are below. Auditions for the chorus will be performed in quartets, while principals are asked to perform solo for each part they wish to audition. We ask that auditions are performed off by heart. Don't worry though, it's nothing too difficult and we always aim to have fun.
Auditions booking form and more details
Auditions will be held at Belstead Village Hall on Thursday 11th May. If you cannot attend at this time, we are able to make arrangements in advance of this date. Unlike previous years, there is no audition fee.
All cast are asked to perform a sung audition for either chorus or principal roles.
Sorcerer sung auditions
Role
Song number
Page
Sir Marmaduke
Act 1 (9)
"Welcome, joy!" (with Lady Sangazure)
pp 30-31
Alexis
Act 2 (17)
"Thou hast the pow'r..."
pp 97-100
Dr. Daly
Act 1 (3a)
"Time was..."
pp 17-18
Notary
Act 2 (16)
"I am a very deaf old man..." (with Constance)
pp 88-91
J. W. Wells
Act 1 (12)
"My name is..."
pp 42-47
Lady Sangazure
Act 1 (9)
"Sir, I thank you... be mine" (with Sir Marmaduke)
pp 31-33
Aline
Act 1 (6)
"Oh, happy young heart"
pp 24-27
Mrs Partlett
Act 2 (18)
"I'm no saucy minx and giddy"
pp 104-105
Constance
Act 2 (16)
"Dear friends, take pity..." (with the Notary)
pp 87-91
Chorus
Act 1 (14)
"Now to the banquet we press"
pp 73-78
Note: the Lawyer (Act 1, p35) will not be auditioned separately, and may end up being the same person as the Notary
Trial by Jury sung auditions
| Role | Song number | | Page |
| --- | --- | --- | --- |
| Judge | (4) | "When I, good friends..." | pp 21-24 |
| Plaintiff | (13) | "I love him..." (with the Defendant) | pp 55-57 |
| Defendant | (13) | "I smoke like a furnace..." (with the Plaintiff) | pp 55-57 |
| Counsel | (8) | "May it please you, my lud..." (verses 1 & 2 only) | pp 34-35 |
| Usher | (1) | "Now Jurymen, hear my advice..." | pp 6-8 |
| Foreman | (2) | "Oh, I was like that... with the defendant!" | pp 14-15 |
| Bridesmaids | (6) | "Wear the flowers..." | p 31 |
Spoken auditions
If you are going for a principal role, there is a short spoken audition too. You do not need to perform a spoken audition if you are only going for Chorus.
The Sorcerer characters
Sir Marmaduke Pointdextre
An elderly baronet. Refined and very correct in manner. Has a wonderful Jekyll & Hyde duet with Lady Sangazure, where a great tempo and mood change illustrate the "outer" and "inner" sides of the characters. Involved in the Quintet, Song 18. Some dialogue.
Alexis Pointdextre
Sir Marmaduke's son. The tenor hero of the show. He's a good-natured chap who loves Aline and genuinely wants everyone to find similar happiness. Ignore any previous Sorcerer shows you may have seen... as Alexis is usually depicted as a self-opinionated, overbearing bore. Around 40 lines dialogue (was 90 in the original).
Dr Daly
Vicar of Ploverleigh. Earnest and well-meaning, but – quite frankly – clueless as to what is going on around him. He yearns to find a soul mate, but is totally unaware of the love that Constance has for him. Two solo songs, a duet, part of the quintet and busy in the chorus numbers. Around 40 lines of dialogue.
The Notary
A wizened, crusted old fossil. Deaf as a post. Only a few solo lines. A great comic "duet" with Constance, who does most of the singing, but it's a great vehicle for comic response. Some quartet work, and individual lines to deliver over chorus numbers. Think of a deaf version of Corporal Jones. There is no dialogue audtion for the Notary.
John Wellington Wells
(of J Wells & Co, Family Sorcerers) Singer of one of the most devilish of patter songs. Does not appear (no pun intended) until Song 12, but dominates the stage whenever he is on. Some splendid trio work with Aline and Alexis in songs 13, 14 and 15. A great out and out comic duet with Lady S, song 19. As with all really great character parts there are many ways to tackle the role. Looking at the Incantation Song 13, as being quite dark. Say, 40 lines of dialogue.
Lady Sangazure
(a Lady of Ancient Lineage) Character, breeding and ancient lineage is what this formidable lady is all about. Two wonderful duets. The first with Sir M Song 9, then with JWW Song 15. One of the few G&S characters to have significant songs to sing but no dialogue. (We will sneak in one line in our version!) A very strong character part.
Aline Sangazure
Lady Sangazure's daughter. A radiant, happy, confident woman. Chief diva in the show. Sings with ALL the other principal characters. (Not sure if any other G&S lead does that in any of the shows!) Alexis comes up with the idea of calling in The Sorcerer, but Aline is more than happy with the plan. As with Alexis, forget any ideas about playing this role based on a show you have seen in the past. Say, 30 lines of dialogue.
Mrs Partlett
A woman of humble origin. She's Constance's mum but is now widowed. (Everyone in Ploverleigh has the unfortunate trait of losing their other half!) Little outright solo work, but lots of times when she sings individual lines in big chorus numbers. She ends up with the Notary. (Poor old soul!) Say 25 lines of dialogue.
Constance
(Mrs Partlet's daughter) A love-lorn lady! She is crazy about Dr Daly, and he doesn't even know she's there! First solo number of the show. (No pressure!) Comic song, with Notary in tow, to show just how mismatched the pairings are after the magic spell works. Significant individual lines added to the big chorus songs. A few lines of dialogue.
Spirits
These "fiends of the night" will appear for an onstage "danse macabre". To be chosen from the company after auditions. People involved to double as village people. (Sing YMCA!)
Chorus
The Chorus will be villagers, e.g. blacksmith, farmer, gardener, ploughman, milkmaid, servants, schoolteacher (Dame), various rustics, ruffians and rascals
Gay Sally Lunn
No audition needed
Trial by Jury characters
There is no dialogue in Trial by Jury.
The Learned Judge
Is he? I doubt it! A wonderful comic baritone role. Tend to think of him as getting on in years, but originally played by Sir Arthur Sullivan's brother Fred who was in his 30s. Very famous patter song "When I good friends", where he freely admits his career rise was "managed by a job". Must have instant rapport with the audience AND work well with on stage players.
The Plaintiff (Angelina)
Vivacious soprano. She's The Merry Widow (yes, I know she ISN'T actually a widow!) Fully aware that a flutter of her eyelashes will reduce the jurymen and judge to a set of gibbering jellies. She knows that a flood of tears and a fainting fit will have much more effect that the best presented legal argument. Bridesmaids describe her as, "The broken flower"... she's anything but that! Plaintiff enters stage on page 30 of the score.
The Defendant (Edwin)
What a cad! Typical tenor... no moral fibre. Two solo numbers, marked allegretto. They hammer along almost like patter songs. The entire court turns on him, yet he still tries to argue his case in a jovial way. A bright, lively character who comes through the bear pit unscathed. The audience needs to have some sympathy with him.
Counsel for the Plaintiff
Role can be either MALE or FEMALE (in our show). The legal eagle in the court. Confident that his/her grasp of the law cannot be argued with. Very cleverly worded song as he/she puts forward Angelina's case. The plaintiff is depicted as "my interesting client" while Edwin is identified as "the traitor".
Usher
A bass baritone who always raises his voice for 'ush. "Gentle, simple-minded Usher" is how the Judge describes the character. Possibly a bit of a bruiser, who wasn't at the head of the queue when brains were handed out. A "jobsworth" who would call out "Silence in court", even if the room was empty.
Foreman of the Jury
A few solo singing lines. Named singer in the Sestet A NICE DILEMMA. Leader of the gents chorus throughout. As he says of himself... he's a "respectable chap, And shine with a virtue resplendent, And therefore, I haven't a scrap Of sympathy with the defendant". On stage for all the show.
The Bridesmaids
Not quite The Cheeky Girls, but no shrinking violets. The bridesmaids usually enter the court for Song 6 (score page 26). But we may well bring them in at the very beginning of the show. Went for two bridesmaids last time out. The number is flexible. They will be named (Faith, Hope & Charity etc). Aim to get them in a dance/movement routine, and involved in everything that's going on.
Chorus
Chorus members will be gentlemen of the jury, barristers, attorneys and the watching public.
Belstead Village Hall
Our rehearsal venue, and venue for auditions, is Belstead Village Hall
You can find much more information about the Society on this website, or take a look at our Facebook page. Please feel free to contact Debbie Rogers, our Membership Secretary at rob.rogers46@btinternet.com or telephone 01728 628203 to find out more.