The Gondoliers 2018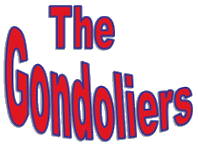 In Venice lived two brothers, Marco and Giuseppe. They are happy being Gondoliers, until one day an imposing stranger announces they are not in fact brothers, but that one of them is the only son and heir of the late King of Barataria. Precisely which is the King and the Gondolier is unfortunately an inconvenient mystery. It is doubly inconvenient when they discover that the King, whichever he is, was married in infancy to the daughter of a Spanish Duke as - only half an hour earlier - the brothers were both married to two local Venetian girls.
Forced to leave their new wives behind, the Gondoliers set off to Barataria, set up a republican government where all are equal, and they reign in a coalition government. Surely this can't go on forever?
Come and join us for an evening of love, fun and frolics – all in Gilbert and Sullivan's inimitable style!
Auditions
The audition pieces for this year have been chosen, and the details are below. Auditions for the chorus will be performed in quartets, while principals are asked to perform solo for each part they wish to audition. We ask that auditions are performed off by heart. Don't worry though, it's nothing too difficult and we always aim to have fun.
Auditions booking form and more details
Auditions will be held at Belstead Village Hall on Thursday 24th May. If you cannot attend at this time, please make arrangements in advance of this date. Unlike previous years, there is no audition fee.
All cast are asked to perform a sung audition for either chorus or principal roles.
Sung auditions
Role
Song number
Page
Duke
Act 1(3)
"In enterprise... Plaza Toro!" (3 verses)
pp60-61
Duchess
Act 2(9)
"On the day... at first!" (1 verse)
pp187-190
Casilda
Act 1(4)
"O rapture... beloved!" (with Luiz)
pp64-67
Luiz
Act 1(4)
"O rapture... beloved!" (with Casilda)
pp64-67
Don Alhambra
Act 1(6)
"I stole the prince... doubt whatever!"
pp72-76
Giuseppe
Act 2(2)
Act 1(1)
"Rising early... Ministers of State" (1 verse)
"We're called... Tra la la la la!" (with Marco)
pp138-142
pp29-32
Marco
Act 2(3)
Act 1(1)
"Take a pair... if you can" (1 verse)
"We're called... Tra la la la la!" (with Giuseppe)
pp143-145
pp29-32
Gianetta
Act 1(10)
"Kind sir... with a woman's hand." (1 verse)
pp96-97
Tessa
Act 1(9)
"When a merry maiden... and nothing's wrong."
pp89-92
Antonio
Act 1(1)
"For the merriest fellows... Tra la!" (one verse)
pp19-22
Francesco
Act 1(1)
"Good morrow... extraordinary."
p16
Fiametta
Vittoria
Giulia
Act 1(1)
"For Marco... sit sedately." (whole phrase)
pp16-17
Inez
Act 2(12)
"The royal prince... behold his royal highness."
pp214-215
Chorus
Act 1(10)
"Then away... that isle may be!"
pp124-126
In some older score the pages may be slightly different, usually only about 1-2 pages out, but if you have any queries, please contact us
Spoken auditions
If you are going for a principal role, there is a short spoken audition too. You do not need to perform a spoken audition if you are only going for Chorus.
Belstead Village Hall
Our rehearsal venue, and venue for auditions, is Belstead Village Hall
You can find much more information about the Society on this website, or take a look at our Facebook page. Please feel free to contact Debbie Rogers, our Membership Secretary at rob.rogers46@btinternet.com or telephone 01728 628203 to find out more.