Join us!
We are a mixed choir with a range of musical abilities, united by a love of singing. We are always on the lookout for enthusiastic singers of all abilities and voice parts.
Our repertoire is extremely varied; don't think it's just G&S!
For the show in the autumn, chorus and principals are auditioned, although the chorus audition is not normally too challenging. We also audition for chorus in our concert season, but again nothing too taxing is expected. Enthusiasm counts for a lot, and we always aim to have fun!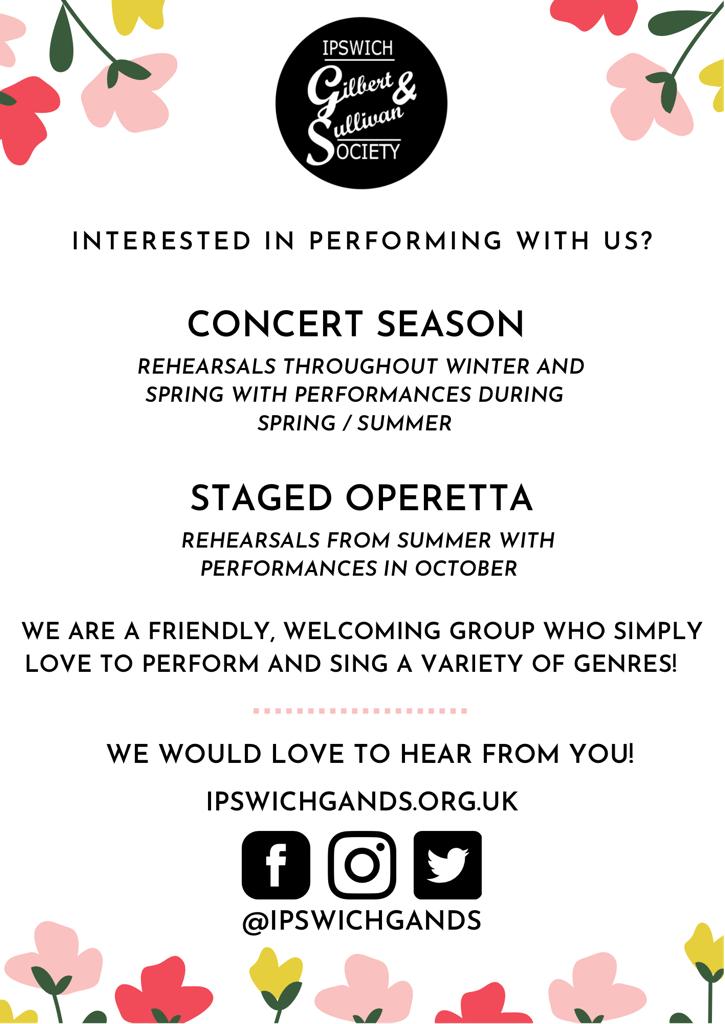 Interested?
New members are always welcome whether they be experienced singers or not. You don't need to be able to read music to be a member but must enjoy singing a wide repertoire.
We take our singing seriously but we laugh a lot too! Our doors open every Monday at 7:30pm for rehearsal at Methodist Church Hall on Kingfisher Drive in Ipswich. Just pop in and sing with us!
If you would like more information, please contact Debbie Rogers (rob.rogers46@btinternet.com).
Rehearsals
We hold rehearsals every Monday at Methodist Church Hall on Kingfisher Drive in Ipswich, starting at 7:30pm. We'd love to see you there. For your GPS, the address is 2 Pheasant Road, IP2 0QH, but entry is from Kingfisher drive.
View Larger Map